Gerhard Richter
(* 1932 Dresden)
1951 – 1956 1.studies at the Academy of Fine Arts in Dresden
1957 – 1961 Active as a master student at the academy and as a freelance painter with state commissions from the GDR
1961 Fled to West Germany
1961 – 1963 2. studies at the Düsseldorf Art Academy. Richter's work moves between representationalism and abstraction. Initially his work was inspired by Informel.
1963 he produced his first works with blurring techniques, which he made after photographic models.
1966 Development of the group of works "Colour Panels" and "4 Panes of Glass
1967 – 1975 Creation of the "Grey Pictures". He dedicated himself to a specific individual motif in a series.
1971 – 1993 Professor of Painting at the Düsseldorf Art Academy
1972 Richter represents Germany at the Venice Biennale with the "48 Portraits" series
1977 Development of colour-intensive, abstract works
1980 Creation of his first abstract squeegee painting. One of the most recent paths Richter has taken in his exploration of abstraction and colour is his work with stripes
Richter lives and works in Cologne.
Gerhard Richter is one of the most important contemporary artists. Richter felt the need to paint at a young age and decided to train as a sign, advertising and stage painter. He then began his studies at the Dresden Art Academy. From 1957 he produced oil and wall paintings in the style of socialist realism for the GDR, at the same time creating private portraits of his family. Impressed by a visit to documenta II, where he came across abstract works by Jackson Pollock, Jean Fautrier and Lucio Fontana that seemed peaceful to him, Richter decided to leave his homeland in 1961 and fled to West Germany.
Once he arrived in West Germany, Richter quickly realised that he was henceforth a "free" artist. He was able to complete his art studies at the Düsseldorf Art Academy and meanwhile began to explore the relationship between painting and photographic sources. This pioneering achievement in post-war art opened the doors to the German art trade for Richter. Immediately, the greats of the gallery world, such as Alfred Schmela or René Block, exhibited his works. In the years to come Richter varied his "blurred painting" through various thematic complexes. The 1970s were dominated by abstraction and a large number of raster paintings. Nevertheless, Richter did not stop painting figuratively at the beginning of the 1970s. A wild odyssey through abstraction and figuration begins and ultimately creates one of the most multi-faceted complete works of the present day.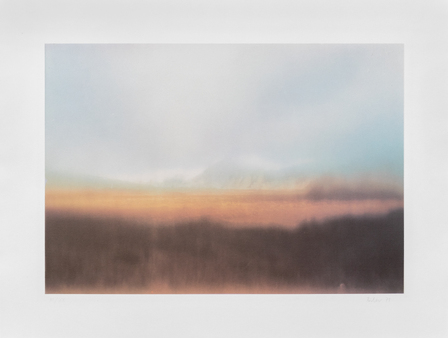 Gerhard Richter
Teydelandschaft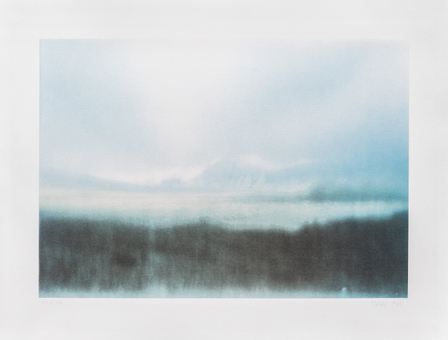 Gerhard Richter
Teydelandschaft