Sam Francis
(San Mateo, Kalifornien, Vereinigte Staaten 1923 - 1994 Santa Monica, Kalifornien, Vereinigte Staaten)

1923 Born on 23 June in San Mateo, California.
1941 - 1943 Studies botany, medicine and psychology.
1943 - 1945 An aeroplane accident during army flight training and a progressive illness confined him to bed for years. During this time he began to paint
1948 - 1950 Studies painting with Mark Rothko and Clyfford Still
1950 - 1958 Lives and works mainly in Paris and southern France
1952 First solo exhibition in Paris
1956 Participates in the exhibition "12 Americans" at the Museum of Modern Art, New York
1958 Solo exhibition in Tokyo and Osaka
1963 Participates in the 32nd Venice Biennale
1968 Receives honorary doctorate from the University of California, Berkeley
1970 Begins to deal with "Action - Painting
1983 Receives the French Order "Commandeur de l'Ordre des Arts et des Lettres".
1992 Commissioned by the Bundestag to create a mural painting
1994 Sam Francis dies in Santa Monica on 24 November.

After studying painting with Mark Rothko and Clyfford Still from 1948-50, Sam Francis moved to Paris and attended the "Académie Léger" there. His first solo exhibition took place in Paris in 1952, where he met artists of the French Informel. Included in the ranks of the young European avant-garde, his paintings are now shown at exhibitions in Paris, London and Bern. His participation in the 1956 exhibition "Twelve Americans" at the New York Museum of Modern Art also made Francis known in America. It was during this period that he made the stylistic shift from blanket compositions in monochrome values to colourful 'islands' of colour on the white canvas. The calligraphic peculiarity of the application of paint and the lyrical character of the fluid colour connect Francis with the art of the East, which he also explored. In 1957, during a world tour, he visited India, Thailand and Japan, among other places, and his works were shown at exhibitions in Tokyo and Osaka. The artist, who led a restless life between his main residence in Paris and other metropolises, moved back to California in 1962, where he first set up a studio in Santa Monica, then in Venice in 1963. In the 1960s Francis developed a very personal form of spontaneous and gestural dripping. With circling and splashing movements, he directed the oil, acrylic and watercolour paints over the picture supports. In his "grid paintings" of the 1970s, the picture surface is covered with net-like structures. In addition to "action painting", of which Francis is one of the most important representatives, he also turned to other techniques such as lithography, etching and monotype. His exploration of graphic art in the early 1980s led to delightful experimental works. Expressive multi-part pictorial compositions with partly blending colours characterise the painterly work of these years. Large commissions for murals determine his last phase of artistic creativity. Sam Francis died on 4 November 1994 in Santa Monica.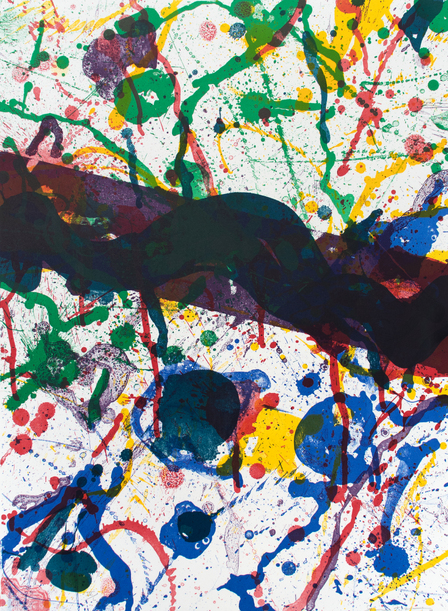 Sam Francis
o. T.