360° SCULPTURE TRAIL IN THE RHEINAUENPARK
Thomas Röthel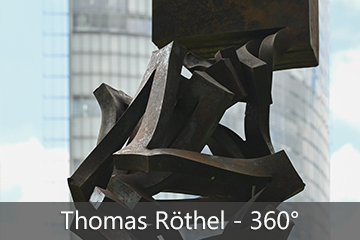 360°
SCULPTURE PATH IN THE RHEINAUEN PARK
Exhibition period June - October 2023
To our great pleasure, Galerie Geißler Bentler in
cooperation with Deutsche Post DHL Group
has been awarded a prize. with the Deutsche Post DHL Group, the Federal City of Bonn
and the Federal and the Bundesanstalt für Immobilienaufgaben (Federal Agency for Real Estate Tasks). grounds of the Rheinauenpark an exhibition of 22 large
sculptures by the steel sculptor by the steel sculptor Thomas Röthel entitled 360°.
Thomas Röthel has been one of the most outstanding steel sculptors
in Germany for years. with his own unique formal language and with
a very great recognition. a very high recognition value. In the meantime
the artist has produced a number of different series of works in solid
steel. steel, all of which are presented in this exhibition with reference sculptures of up to
seven metres in height. up to seven metres in height or length and weighing up to eight tonnes. be exhibited. For the first time, we will be able to present a unique,
coherent, real overview of the complete work
of the artist. of the artist's oeuvre. This includes, of course, his
very latest designs. the very latest designs.
The opening of the exhibition, followed by a tour of the
sculpture trail, will take place on Sunday. Sculpture Trail will take place on Sunday, 18 June 2023, at 11.00 a.m. on
the grounds. the Deutsche Post DHL Group site behind the Post Tower
. will take place. We look forward to welcoming you and your friends on this
special day in Bonn. special day in Bonn.