art KARLSRUHE 2023
Hall 2 Stand H2/A09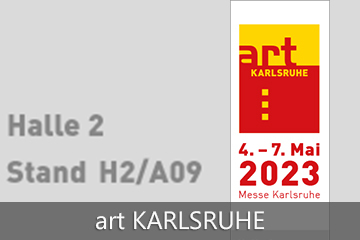 Galerie Geißler Bentler at the art KARLSRUHE
Hall 2
Stand H2/A09
Event date: 3 - 7 May 2023
Öffnungszeiten: 5 - 6 May 2023: 11 a.m. - 7 p.m. each
On 7 May from 11 am - 6 pm
Preview:
For VIPs and press only: 3 May 2023, 2pm - 7pm

Vernissage:
only for guests with vernissage ticket: 4 May 2023, 11 a.m. - 8 p.m.
Venue:
Messe Karlsruhe
Messeallee 1
D-76287 Rheinstetten
Germany

Access via Entrance West and Entrance East
Changed opening hours of the gallery:
Thu: 11am - 7pm
Mi: 11am - 5pm
Thu: 11am - 7pm
Fri: 11am - 5pm
Closed on Saturday
A year has passed quickly and once again Galerie Gei;ler Bentler is faced with the question: What do we show at art KARLSRUHE, what special things can we offer visitors to the fair, which artists do we show and which rare or even outstanding works of art should be presented? What is the concept, how is the stand designed and how do artists fit together?
Let's start with the special. The gallery is hosting two one-artist shows: One with works from the estate of Bernd Berner, who belongs to the Informel, and with key works of graphic art by Günther Uecker, who consciously distanced himself from the Informel.
The first show will be in the form of a series of works by Günther Uecker.
At the stand of Galerie Geißler Bentler, visitors will find beautiful coloured pencil drawings by Bernd Berner, which have a very loving, harmonious aura, but just as large paintings in rich colours, which are really impressive and have a very strong effect. Between these extremes, the entire palette of different techniques and colours of the artist, who unfortunately died in 2002, unfolds. The painter's theme, the space, will be discussed in several lectures by Dr. Renate Goldmann, Director at Van Ham Art Estate. Interested visitors to the fair are cordially invited to attend these lectures at the stand. The exact dates will be announced later.
While Bernd Berner paints the surface space, Günther Uecker, who is the same age, conquers the real space for his art. The third dimension and thus the total work of art, in which there is no longer a boundary between picture and sculpture, is the dominant theme here. And so wonderful reliefs are created from nails, the artist's trademark. In addition, he creates his own graphic work, white relief prints that are unrivalled in their aesthetics and dynamics. Key works of these prints such as the Spiral 2010" will be on display at the stand. The fact that Günther Uecker is ranked 20th in the art compass of the magazine "Capital", the ranking of the most important and influential artists worldwide, is an extraordinary recognition of an outstanding life's work.
But individual positions of other world-class artists will also be on display. Gerhard Richter, number one in Capital's art compass for 19 years, will be shown with various graphic works, especially two copies of his Teydelandschaften from 1971. Heinz Mack, ZERO co-founder from 1959, will also be represented with several works. His latest and largest graphic work, Spectral Colour Sound, will attract particular attention. Of course, we will also present other important works by the artist.
The transparent and generously designed exhibition stand naturally also has plenty of space for the gallery's other artists, who often stand in the tradition of ZERO art, but produce completely different results, create a completely new language of form and completely different content. And in the end, it is perhaps this juxtaposition of great, established art and younger positions, which continue to be subject to a creative process of change, that constitutes the stimulating, light and creative atmosphere at the stand of Galerie Geißler Bentler.